CODiLOG, SAP specialist and GOLD Partner France
For 25 years, CODiLOG has been a leader in SAP digital transformation. With our 400 employees, we serve more than a hundred active clients and in 2021 we achieved a turnover of more than 50 million euros.
SAP expertise and a client‍-‍focused culture
In addition to its expertise in SAP, which sets it apart from many of the more generalist players, CODiLOG's growth strategy is built around human relations and an understanding of issues at ground level. Our ambition is to offer accessible and efficient solutions.
Committed and client-focussed, CODiLOG offers customized services, packaged offers and proprietary software solutions around SAP. The goal is to meet the needs of the business and to respond to the specific challenges of each sector of activity.
The CODiLOG story
2023
the 25th anniversary is coming soon!
2021
ITS/4YOU: Get the most out of SAP S/4HANA with CODiLOG ITS/4YOU is the CODiLOG-branded service for SAP S/4 HANA, which is the result of our expertise and feedback, but also of the know-how of our certified consultants and a well-oiled methodology.
2019
Opening of the Amiens Agency CODiLOG continues its regional expansion with the opening of a new agency in Amiens, Hauts de France. This human-scale Center of Excellence in SAP consists of technical and functional experts with unique skills: FIORI/UI5, PI/PO, PM.
2018
CODiLOG celebrates its 20th anniversary! To mark its 20th anniversary, the founders Vincent and Jean took all the employees to Faro, Portugal to celebrate this milestone together.
2017
LIB Consulting A year later, CODiLOG was joined by LIB Consulting, a team of experts in PI PO.
2016
ILIADE Consulting In 2016, CODiLOG expands and merges with ILIADE CONSULTING, a specialist in the energy and water sector.
2014
Opening of the Angers Agency our first regional agency, launched in the space of 3 months to meet the needs of clients in the west of France, in addition to the one already based in Nanterre, in the Paris region.
2012
PROXIMA TPAM (TME PROXIMA) solution In addition to managing its customers' SAP applications, CODiLOG offers a team specialized in SAP administration.
2006
SAP Gold Partner CODiLOG earns the SAP Gold Partner certification
2003
Creation of the PROXIMA Service Center CODiLOG's Service Center offers clients the ability to design an SAP outsourcing model (SAP support and SAP TPAM, SAP TPOM, Editor Maintenance) that's a perfect fit for their needs by choosing one or more service bolt-ons, the contract type and the associated service levels. Manage the complexity and scalability of your SAP IS Control your costs with customized billing Ensure service continuity and user satisfaction.
2000
Creation of the DataConversion® service CODiLOG's flagship solution, DataConversion®, enables companies to tackle their organizational, process or structural transformations.
1998
Creation of CODiLOG After having worked for 3 years as SAP Consultants at Accenture, Jean Velut and Vincent Grzeczkowicz created CODiLOG, specializing in Consulting, Integration, Administration and TPAM of the SAP ERP.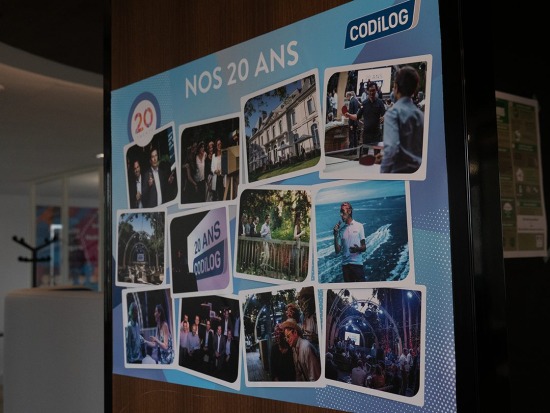 Building on shared values to grow together
Equality, respect, consideration, etc. CODiLOG relies on shared intelligence and entrepreneurial freedom to bring together talents and create an environment that encourages community and innovation.
It's a philosophy that's shared by all our employees and backed up by a number of initiatives to maintain a positive dynamic and total commitment for the benefit of our clients.
400 talents to support you
50 million euros in turnover
6 agencies and 3 subsidiaries
Île-de-France, Hauts-de-France, Normandy, Pays de la Loire, Switzerland, Belgium and Tunisia.